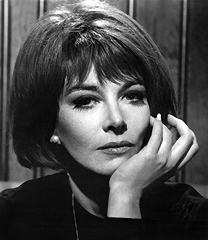 If you read my Valentine's Day column (My Celebrity Girlfriend), you already know that Lee Grant was my first real movie actress crush twenty-five years ago. Since then, I have watched her ascend as a respected director and producer (and, of course, as the mother of Dinah Manoff!)
Tonight (3/12/2001, 7:00 PM EST) Lifetime TV will be presenting  Lee Grant: A Rich Past and Future as part of their Intimate Portrait series. Let me say front and center that I have not seen this show yet, so I cannot review it, but Lee Grant has led a fascinating life that is worthy of study.
Born Lyova Haskell Rosenthal in New York, she made her stage debut at age 4 in 1932 at the New York Metropolitan Opera. As a teenager, she won The Critics' Circle Award for her role in Detective Story, and won an Academy Award nomination as Best Supporting Actress in 1951 for the same role in the William Wyler film version of the Broadway play.
Around that time, Lee met and married author Arnold Manoff. Manoff began his writing career as an interviewer of American Life Histories for the WPA Federal Writer's Project during the New Deal. By the 1940's, he was a successful novelist, playwright, and screenwriter. In the 1950's, the progressive couple socialized with other Jewish, left-leaning New York intellectuals, a circle of people who would be placed on McCarthy's Un-American blacklist for their alleged ties to Communist groups. In 1957, they were both called before McCarthy's House of Un-American Activities Committee to testify. Lee was asked to turn in her husband for being a member of the Communist Party. She refused, pleading the Fifth Amendment, and was blacklisted. She spent the next ten years teaching acting, writing under pseudonyms, and raising their daughter Dinah and Manoff's two children from a previous marriage (one of those children is Tom Manoff, now a  composer and classical music critic for NPR).
In 1964, Lee's name was taken off the blacklist and she resumed her career, winning several awards, including the Obie, the Emmy, and the Oscar. In the late 70's, Lee participated in The American Film Institute's program for first-time women directors and moved from feature films to establishing her own independent documentary production company, specializing in social issues such as gun control, breast cancer, and abuse. In 1987, Lee won another Academy Award for her documentary about homelessness Down and Out in America, a critical examination of the results of "Reaganomics" upon America's working class. (The musical score for that film was written by Tom Manoff).
In the past few years, she has directed over twenty-five of Lifetime's Intimate Portrait biographies of women. Yes, she is directing her own biography, which I admit is a little weird, but should prove interesting.
Currently, Lee has a part in The Amati Girls which airs on the Fox Family Channel this week (3/14/2001, 8:00 PM EST). The film stars many of my favorite actors, including Mercedes Ruehl, Cloris Leachman, Sean Young, Paul Sorvino, Sam McMurray, Robert Picardo, and … Dinah Manoff. She has also been cast in Mulholland Drive, a new film by David Lynch currently in post-production.